What is a Cold Air Intake?
Author: SPELAB Mechanical Engineer (focusing on car modification for 10 years)
A system for air intake called a "cold air intake" draws its intake air charge from the outside of the engine compartment. The engine compartment, where hot air makes up most of the intake air charge, is where most factory air intake breathers are located. As a result, a car can gain horsepower and feel noticeably more powerful and responsive when a cold air intake is installed, pulling cool air from outside the engine chamber. The usual path for the cold air intake is inside the front fender near the wheel well or beneath the car around the bottom of the front bumper.
What Additional Horsepower Can a Cold Air Intake Add?
Due to the potential increase in horsepower, air intakes are a popular performance modification. Additionally, they're a terrific initial upgrade because they're comparatively simple to install, offering truck owners the ideal project to get to know their engine and a measurable power gain. But how much horsepower can you expect from an upgraded air intake? Let's explore.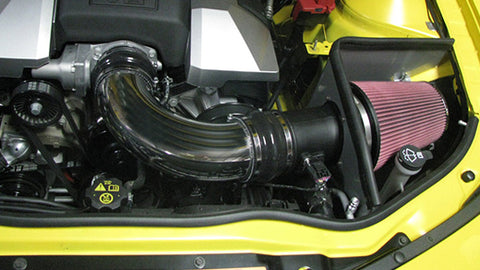 What Does a Cold

Air Intake

Add in HP?
Although this number can be greater or lower based on your make, model, engine size, and type of intake, truck owners should anticipate a gain in horsepower of between 5 and 15 when changing their air intake.
Numerous elements, including the position of the modified air intake, are responsible for this shift. By moving the system from its original position so that it breathes in denser, colder air near the fender well instead of lighter, hotter air over the engine, cold air intakes often improve combustion. Ram air intakes use a sizable air duct that is located in the engine bay's front-most area to send air into the system before the engine heats it.
Additionally, the intake tube is wider, allowing more air to enter the system and supporting unrestricted air movement.
Last but not least, enhanced air intake systems typically have larger air filters than stock, facilitating higher airflow. The materials utilized improve filtration, with cotton having greater advantages over paper and oily over dry.
K&N Cold Air Intake
K&N Cold Air Intakes are made with a number of considerations in mind. First and foremost, your K&N Cold Air Intake will make an airflow path that is more aerodynamic. This is achieved by using a very airflow-efficient filter medium and eliminating the stock intake tube, which can lead to excessive turbulence. A performance air filter, which is intended to produce more airflow than a regular paper filter, will be the first thing that air passes through. After that, air will keep flowing through your body. This air stream is intended to travel smoothly and unhinderedly, thanks to K&N cold air intake devices. This enables you to maintain cooler, more oxygen-rich airflow. You can anticipate an improvement in torque and horsepower as a result.
INJEN COLD AIR INTAKE SYSTEM
It's time for the cold air intakes to evolve. The next generation of performance intake systems is the Evolution cold air intake system from Injen Technology. The 5.0L engine of the 2018–2019 Ford Mustang GT is specifically designed to work with the EVO9202. Every EVO9202 cold air intake is constructed in the USA using cross-linked high-density polyethylene for utmost durability. A ram air scoop that faces forward on the box will bring clean, fresh air to your engine. Additionally, this intake system has couplers made of automotive-grade urethane and hardware made of stainless steel. No cutting or drilling is necessary for a simple installation technique that results in excellent HORSEPOWER and TORQUE GAINS.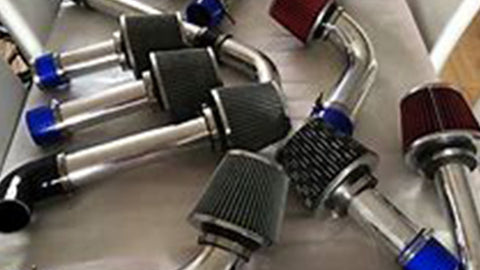 21-875DS AEM COLD AIR INTAKE SYSTEM
When compared to the constrictive factory air intake housing, AEM cold air intake performance system enables your engine to breathe more air. It has been engineered, adjusted, and dyno-tested to produce greater horsepower and torque. For exceptional air flow, filtration, and performance, air enters the system through the factory fresh air inlets, passes through a replacement air duct, and then enters a roto-molded, aerodynamic AEM air box holding a larger AEM Dryflow synthetic washable air filter. The oil-free, synthetic filter media used to create the cone-shaped AEM Dryflow air filter can be utilized for up to 100,000 miles before cleaning is necessary (depending on driving conditions). While some AEM air intakes are 50-state legal, some are not allowed for sale or use in California or other states that have adopted California emission rules.
One of the early innovators in the aftermarket sealed intake sector was Volant. Due to exposure to the outdoors and the hot air in the engine compartment, open-element filters might actually reduce performance. Volant can direct the device to draw cool air from the factory-installed fenderwell as well as from behind the front headlight by putting the filter inside a sealed container.
Spectre cold air intake
The Spectre Performance 9900 Air Inta0ke Kit is a well-designed system that can generate appreciable gains in horsepower and torque. In actuality, they are made to maximize a vehicle's power while simultaneously shielding the engine from damaging debris.
A reusable Spectre low restriction air filter, tubing, and all the hardware needed for a speedy installation are all included in the package. The tube is silver, and the air filter is red. This indicates that it is a product that not only results in measurable power boosts but also one that is fashionable.
Spectre's cold air intake kits aim to increase performance in late-model stock cars, trucks, or vintage muscle vehicles.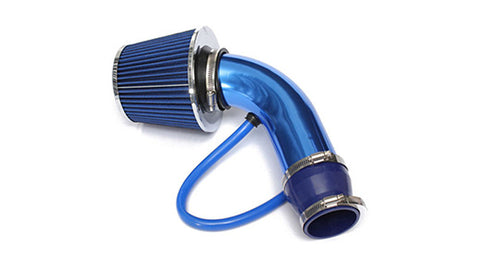 The high-grade, lightweight, polished aluminum tubing will effectively direct the intake entrance away from heat sources like the headers and radiator. Steel heat shields that have been powder-coated are available when needed to further stop hot air from entering the intake inlet. A heat shield is offered for the 9900 Air Intake Kit. The actual air filter is comprised of synthetic non-woven material and has a rounded outlet shape.