SPELAB 2.25 inch Remote Electric Exhaust Cutout Kit
Out of stock
Many in stock
SPELAB 2.25 inch Remote Electric Exhaust Cutout Kit
This Electric Exhaust Cutout System is specifically designed and made to enhance the performance, sound, and power of vehicles with the flip of the toggle switch. Instantly increases up to 20+ Horsepower. Designed to be conveniently welded onto anywhere from the cutout location from the header to the catback of vehicles. The electrical appliance allows opening the cutout simply by flipping the switch and exhaust will be opened for a more direct exhaust flow, more power and desired loud rumble of the exhaust.
This Kit is compatible with ALL vehicles.
Note: please make sure you have enough space to install before purchase and make sure your exhaust size is same with the exhaust cutout.
The Exhaust Cutout Instructions(Click to view)
Pipings - Made of High-Quality T-304 Stainless Steel with Computerized Mandrel-Bends for Strength and Durability
Maximizing Smoothest High Exhaust Air Flow Rate
Electric Cutout Kit - Made of Lightweight CNC Machined Anodized T-6061 Aircraft Aluminum Alloy
High-Performance Racing Spec. Design
Dyno Proven to Instantly Increases 10 -20 Horsepower
Aggressive Deep Sound while Ensures Smooth Exhaust Gas Flow
Electrically Controlled Exhaust Valves Outflow; Simply with a Button on the Remote
Easy to Control the Exhaust Volume and Air Flow
High Torque Electric Gear Motor Specifically Manufactured to Withstand High Temperature and Vibration
TIG Welded CNC Machine Flange for Resistance against Pressure and Corrosion
Increase Engine Output and Efficiency
Inlet/ Major Piping Diameters: 2.25"/2.25"
Professional Installation is Highly Recommended (No Instruction Included)
Features:
   1. Lightweight CNC Machined Anodized T-6061 Aircraft Aluminum Alloy
   2. High Polished Finish
   3. Tig Welded Construction
Details and Specification:
Brand Name: SPELAB
Model Number: SP2332H
Mounting Position: Rear
Pipe Material: Stainless Steel
Valve Material: Aluminum Alloy
Type: Dissipative Muffler
Color: Silver
Size: 2.25 inch
Weight: 3300g
Fit: All 2.25 Inch Exhaust Pipe
Pipe Thickness: 2mm
Function: Adjust car sound
Warranty: 3 months in normal condition
Compatible with:
Universal Application for Any 2.25" Piping Diameter Exhaust System
Fits Piping with 2.25" OD ONLY; Please be Sure to Pair the Remote Control Unit before Completing the Installation
Dual Exhaust System would Require 2 Sets of this Kit for Complete Installation
We also offer Dual Remote Electric Exhaust Cutout Kit, Please click the link.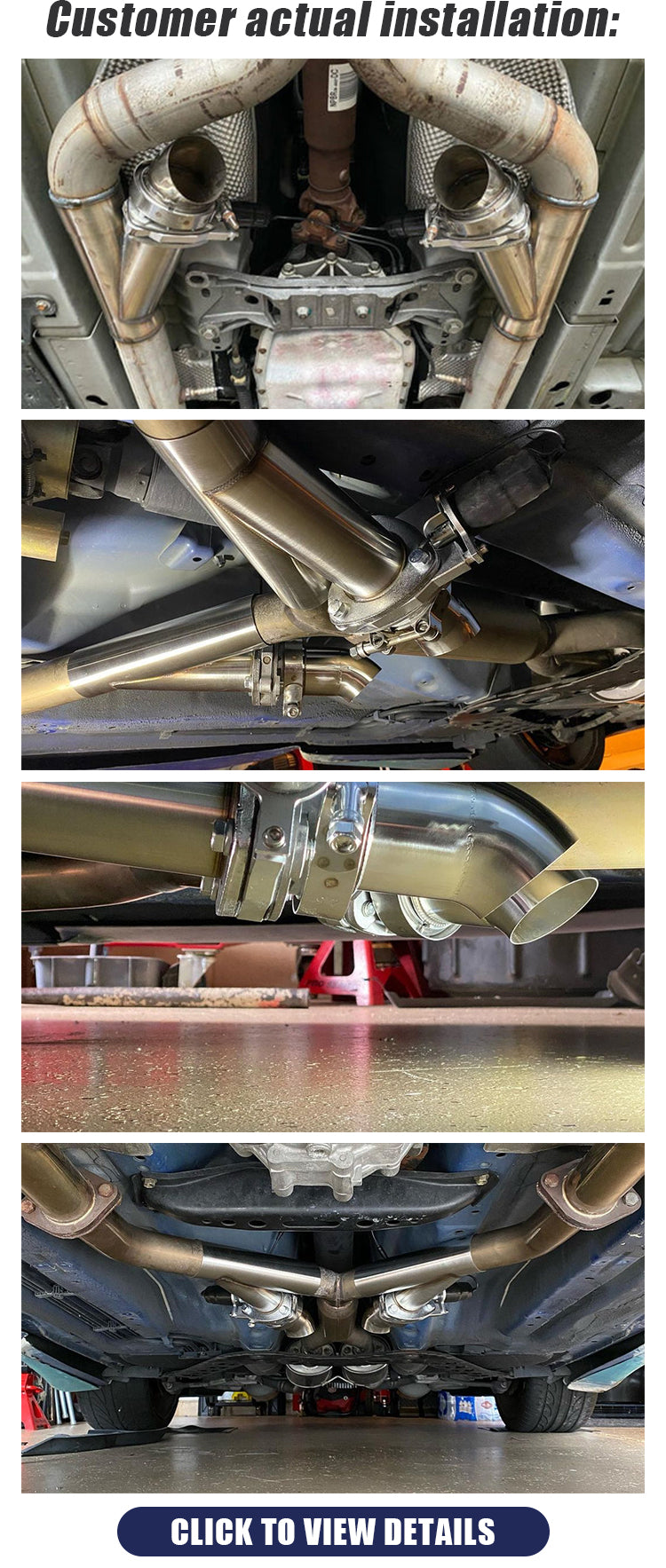 Works perfectly!
My only complaint is that it confused the hell out of the mechanic and I when it came to the hardware. It looks so weird to not use nuts to hold the turn down pipe to the cut out. Because part of the plate is threaded. It made me uneasy that it might fall out or something.
I ordered my product on March 23 2022 today is April 13 2022 and I have yet to receive mt product thst I paid for in full.
Literally the best.
I have NEVER received much love in my 2012 Chevy sonic. This has helped make this car so badass on top of other parts I've done as well. I can't stop showing people and recommending these valves. I simply love this so much. THANK YOU SPELAB for such an amazing product.
SPELAB 2.25 inch Remote Electric Exhaust Cutout Kit